If you're in the market for a new Ryzen 5000 Series CPU you might be trying to decide whether to buy a AMD B550 or X570 Motherboard. While the XX70 range of boards have been the high-end overclocking friendly staple since the introduction of Ryzen Processors, the B550 range of boards might actually meet all your needs, and save you some money at the same time.
To look at the value proposition of the B550, we're taking a closer look at the Gigabyte B550 Aorus Elite ATX Motherboard which is on the higher end of B550 boards available. While B550 motherboards can be picked up from as little as R2000, this board can be had for about R1000 more – still considerably cheaper than high end X570s such as the Aorus Master which is about R15 000 at the time of writing.
So, what's included and what's lacking?
CPU SUPPORT
While the X570 range of boards support almost the entire Ryzen Product stack from Zen+ to Zen 3, the B550 only supports Zen 2 and Zen 3 Processors. This means the B550 lacks support for processors such as the Ryzen 7 2700X and even the Ryzen 5 3400G APU which is based off the Zen+ architecture. While those who are looking to purchase a Ryzen 5000 Series CPU straight away will not encounter any issues – it's worth knowing if you're stuck on an older CPU, and are planning to buy a board now with a newer CPU in the near future.
MEMORY SUPPORT
Thankfully AMD has been quite generous in it's support for high memory frequency with the Ryzen based chipsets, allowing most (if not all) current boards to support the most common memory frequencies currently available such as DDR4-3200MHz and DDR4-3600MHz, something that intel hard locked on some 10th Gen products only allowing DDR4-2933MHz. The B550 Aorus Elite supports memory frequencies as high as DDR4-4266MHz when equipped with a Ryzen 5000 Series Processor. While the real world performance difference is quite negligible, having the incorrect frequency support on a board can lead to instability and some performance left on the table.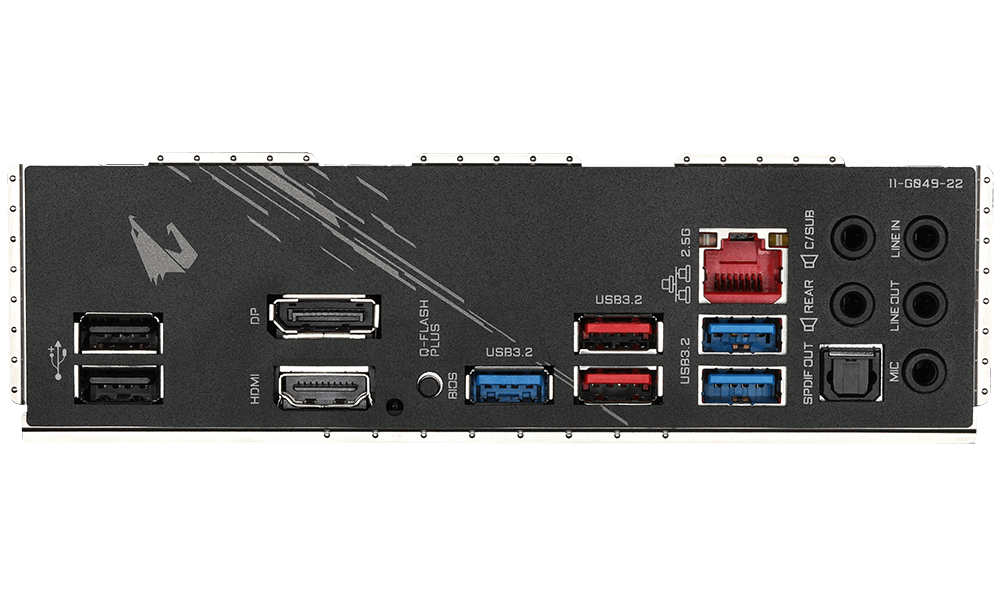 NETWORKING & I/O
While 2.5GbE and Wi-Fi 6 is very common on X570 Motherboards, the Aorus B550 Elite only comes equipped with a 2.5Gb Ethernet port and lacks Wi-Fi capability completely. This can thankfully be resolved by purchasing an add-on card such as the GC-WBAX200 (Wi-Fi 6) or GC-WBAX210 (Wi-Fi 6E) but this leads to extra expenses which may make up the difference for just purchasing a X570 board outright. While some may complain about this, there are some B550 boards which feature wireless, but most of the budget boards will have 802.11ac or Gigabyte LAN which are both already older technologies. In terms of I/O the Gigabyte B550 Aorus Elite features most of the ports you need on a daily basis, there's 2 x USB 3.2 Gen 2, 3 x USB 3.2 Gen 1 and 2 x USB 2.0/1.1 ports. The biggest omission here is the lack of a USB Type-C port or Thunderbolt on the back panel. This likely isn't a deal breaker for most Gamers as I've yet to see any peripherals using USB-C at this stage, it can be an annoyance for those with external drives that rely on a USB-C interface. Thankfully Gigabyte does include a USB 3.2 Gen 1 Type-C internal header on the motherboard, but this requires a compatible chassis.
GRAPHICS & STORAGE
The Gigabyte B550 Aorus Elite has support for PCI Express 4.0 x16 which is used in the latest Graphics Cards from both AMD and Nvidia which is a welcomed addition, helping expand the longevity of the motherboard in the event of future Graphics upgrades. The main difference here when compared to similar X570 boards comes in play when looking at storage options. The B550 Aorus Elite has support for 1x PCIe 4.0 x4 M.2 NVme SSD while the second slot is downgraded to PCIe 3.0 x4. From asking fellow peers it seems that most Gamers are still running PCIe 3.0 NVMe's as well as SATA based SSD's so it's likely that most wont be effected by this, but it's still a far cry from X570 boards that feature up to three PCIe 4.0 NVMe slots.
OVERCLOCKING
A major difference between the product stack of AMD Processors when compared to Intel's counterpart in the past few years has been the support for Overclocking. While Intel only supports overclocking on it's "K" series models, AMD has opened the flood gates for all users to overclock their processors regardless of which model they choose. Thanks to this most users will be able to overclock their processors with decent improvements and little effort, but there are still differences between the VRM designs of the B550 and X570 Boards. Higher end X570 boards are designed for higher currents to pass through the chipset and in some cases even allow for Extreme Overclocking such as LN2, this is not the case for most B550 boards as too high a voltage could kill your board. Thankfully the average user wanting to get some free performance out of overclocking is likely running an Air-Cooler or an All-in-One Watercooler not looking to break a world record with Liquid Nitrogen.
Now if we look at the above, what conclusion can we make when it comes to recommending a board such as the Gigabyte B550 Aorus Elite? For one, if you're a "normal" gamer, wanting to purchase a recent 3000 or 5000 Series Ryzen CPU, a single PCIe 4.0 NVMe for upgraded storage speed, a newer Graphics Card and maybe at most overclock your CPU a few hundred MHz, a B550 Board will fulfil all your requirements (and likely more) while saving you bank. While you could consider an older second-hand B450 or X470 board to save money, you're likely to lose support for Ryzen 5000 series features, as well as warranty. If you're living on the extreme, want to run dual RTX 3090's, have 3 PCIe 4.0 NVMe's and are looking for 10 Gigabit Ethernet and Wi-Fi 6 integration then you'd be better off looking at the X570 range of boards, but let's be real – you're probably the 1% and already know what you want to buy.
The Gigabyte Aorus B550 Elite is in stock and can be picked up at Wootware for R3299